Great Speed GS-P100B ADSL Modem Configuration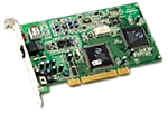 Configuration settings for the GS-P100B and Microsoft Windows.
The file that should be installed from the CD is 1483w98
The Installation manual that comes with the modem is very good. Please follow the step by step instructions.
The following settings should be configured automatically.
ITEX 95A2.sys
Atuc Vendor ID 0
Framing LLC/SNAP
Inc TXPOWER
Modem opmode T1.413 Issue 2
Protocol Bridged Ethernet over ATM
QOS Disable
QOS Option AVR 905
MBS 448
MinRate 1358
PCR 1811
SCR 905
Receive Cell Buffer Length 10240
Transmit Cell Buffer Length 10240
VCI 35
VCI Bit Error Rate Test 21
VPI 0
VPI Bit Error Rate 0